RFID Systems
COMPLETE SOLUTIONS FOR ROBUST & RELIABLE RFID
ROBUST – DYNAMIC – ACCURATE
PRODUCT OVERVIEW
Our RFID reader kit is the ideal solution for waste management companies who wish to monitor presentation rates of customers bins on a route. The hardware kit is delivered in a industrial waterproof shell which is specifically design to fit on waste collection vehicles. The RFID reader and antenna comes in 125 kHz or 134 kHz formats. The RFID reader kit can be sold as a stand alone system or together with our Driver X3 onboard vehicle system or with our full bin weighing system
KEY FEATURES
Household and commercial bins
99.8% Hardware Uptime
99.9% Software Uptime
Full Stoplist and No RFID control
Additional Unknown RFID control
Same Day Hardware Support
1 Hour Software Support
Standard Features
Date / Time Collected
Vehicle Registration
GPS Coordinates
Bin Lifter Position
Waste Type / Bin Size
Collected RFID Bin Chip Read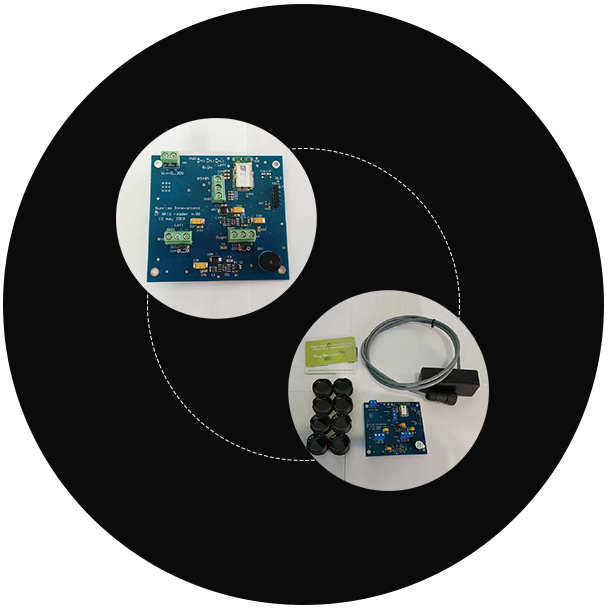 PRECISION YOU CAN RELY ON
LOW FREQUENCY READERS
Low frequency RFID reader board with a read range of < 10 cms, specially designed for industrial and vehicle use. This market leading board works within the frequency of 125KHz and 134KHz (Multiprotocol FDX-B / HDX LF RFID).
RFID READ FREQUENCIES
EM4100, EM4102 @ 125 kHz Em-Marine
EM4105, EM4200 @ 134 kHz FDX-B
SYSTEM PARTS
RFID Indicator Module
RFID Antenna
Driver X3 in Cab System
RFID Reader Board
CONTINUOUS READ MODE
Automatically scanning for RFID chips every milli-second.
GPS & RFID RESULT
All fitouts transmit GPS together with RFID data.
FULL REPORTING AND ANALYSIS
Detailed vehicle reporting and performance indicators.